FAUX LEATHER BOOTS
Designed tough with a classical look, these
 faux leather boots
 will accent your personality with 
double-sided printing
 featuring amazing artwork!
We have partnered with some 
unique and amazing artists
 who each have their own 
style and artistic vision
 to bring you 
a one of a kind boot.
These soft leather boots have 
round-toe construction and soft textile lining for lightweight maximum comfort,
and with the classic look of metal eyelets for a snug lace-up fit, these boots have exceptional durability.
These boots are manufactured with 
premium polyurethane (PU) faux leather
 while ensuring eco-friendly, cruelty-free standards, meaning 
no animal products are used in the construction.
SIZINg & CARE INSTRUCTIONS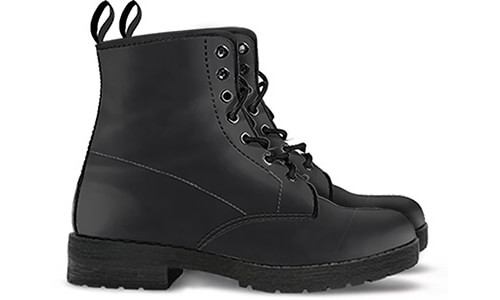 LARGE BAG
6in W x 17in L x 11in H [22in H with strap]
15cm W x 43cm L x 28cm H [58cm H with strap]
SMALL BAG
5in W x 16in L x 10in H [20in H with strap]
12cm W x 40cm L x 25cm H [50cm H with strap]
SHIPPING... RIGHT TO YOUR DOOR!
We ship our leather boots worldwide!
Your leather boots go into production as soon as you place your order and are shipped promptly upon completion right to your door! Your
estimated shipping time is 2 to 4 weeks
and is
based on the past production and delivery times of our leather boots.
Delivery service using USPS or local postal carrier.
Tracking number provided after your product has shipped.

Check the Where We Ship page to see the shipping details of your country.
We always ship with a tracking number
and you can follow the progress of your order at any time by using our
Order Lookup page
.
NEED IT QUICK? USE EXPRESS DELIVERY!
Worldwide

EXPRESS DELIVERY!
is offered

on our entire leather boots collection
so you can get the leather boots you need as soon as you need it.
Delivery service using FEDEX / DHL only $9.95!

10 to 14 day delivery

of your leather boots.

Tracking number provided

after your leather boots has shipped.
Simply click on
NEED EXPRESS DELIVERY?
in the leather boot's product page to ensure you receive your order as quickly as possible.
WHAT OUR CUSTOMERS HAVE TO SAY...
I love these pillows! The colors and designs go so well together and are they are the perfect accent to our living room. We have a dark red couch and sage green chairs and the pillows look great in either place! So versatile!
A really pretty, functional addition to our bedroom. Perfect fit for my down comforter. And thank you for the tie downs on the inside corners. It really keeps the down from sliding around. Wonderful!
We strive to be sure that the
leather boots
you receive when you place your order
fits as you have imagined.
A FEW MORE HAPPY CUSTOMERS...
This thing is great. It really looks nice and the colors are great, and i think the craftsmanship is good with zipper on the bottom of the instead of just a flap like others I have before. Delivery takes a while, but it was worth the wait. Thanks!
Love my bag. Such vibrant colors and great size. I don't like long straps on my tote bags so I tied a knot on each strap. Worked great! Get compliments from strangers.
And don't worry,
if you have received your order and there is a problem with sizing or if the items do not fit... NO PROBLEM!
We will make the exchange and
be sure you get the correct size.